ALLIGATORS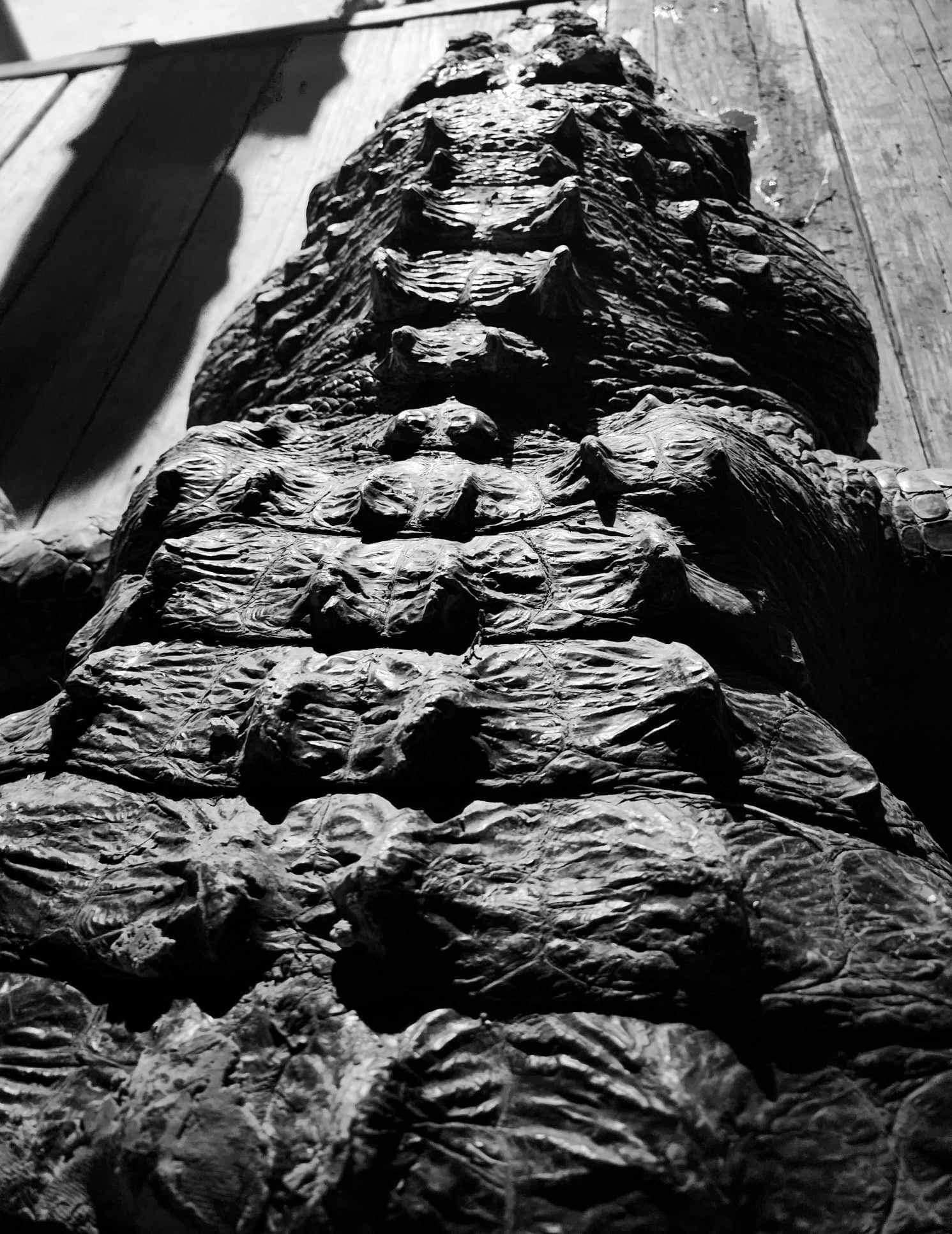 Gator Hide Processing

Aside from the guided hunting, alligator merchandise, and pre-tanned tanned hides, Porter's processes the alligator hide for you in a certified, on-site facility. The processing fee entails the skinning of the gator, scraping and salting the hide for tanning purposes, and reserving whatever is requested for your taxidermy needs. Porter's Processing has developed impeccable technique to ensure that the hide is not neglected or ruined in any way.

If tanning is requested, the processing fee also covers the insuring, packing, and shipping of the hides to and from the tannery. 

*BELLY = $225

*HORNBACK/FULL = $250
Gator Meat Processing

Porter's is FDA and Health Board Certified and follows a strict HACCP plan to supply restaurant grade quality processing of the alligator meat. All meat goes through the same process of deboning, defatting, cubing, soaking overnight, and tenderizing twice. Porter's packages the meat in 1 and 5 lb packages.

Our hunters will pay a discounted rate for processing of gator meat, with the advantage of taking pre-packed meat home the day of the hunt.

*NOTE* Porter's will not take and process any gator meat that was handled prior to our facility.

*NOTE* If a hunter wants his own meat back to self-process - additional fees are incurred.

*HUNTER = $8/LB

*INDIVIDUAL = $15/LB
Gator Head Mounts

Porter's Processing is a meat and hide processor, as well as a middle-man for your taxidermy needs. We offer both the Skin On head mounts and the European Skill mounts.

Skin On head mounts are preserved just as they came from the wild, with the skin and teeth the same as the day it was harvested.

European Skull mounts are a more strenuous taxidermy feat, but a unique display of the alligator's skull without the skin intact.
Gator Hide Tanning

American Tanning and Leather is one of the oldest, most well renowned tanneries in the country, and they process exotic leathers and hides worldwide. Porter's Processing values quality and has worked with American Tanning and Leather for many years. When the hides are shipped to the tannery, there are a wide variety of colors and finishes available.

*BELLY TANNING DEPOSIT = $175

*HORNBACK TANNING DEPOSIT = $600

*REMAINDER DUE UPON RECEIPT (measured CM across the belly)
Printable Pricing Sheet
American Tanning & Leather
Click the link below to view AmTan's Contract Tanning Colors.
Other Processing Services
Deer/Exoticts

Porter's offers custom deer processing services. Below you can click the link to see the pricing sheet. Contact us for additional questions.

Deer Processing Form

Poultry/Swine

Click below you will see the hog processing pricing sheet. For poultry and other pricing inquiries, contact us.

Hog Processing Form

Beef/Cattle

We are currently not a certified butchering facility. As we are broadening our horizons and training each and every day, we have been processing steer/cattle for customers. We work closely and directly with those customers to get them what they need. Please contact us for options, pricing, and availability.